CVS goes to England
BerufsschülerInnen arbeiten in Eastbourne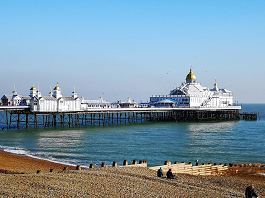 We are Maureen and Anna from Germany. We are living in the very south of the Country at the lake Constance. It is a nice region for vacation. Especially for families and couples. It is famous for doing hiking, swimming, windsurfing and having boat trips across the lake. If you go there you should definitely visit the famous cities located at the Lake Constance: Lindau, Bregenz, Radolfzell and of course Constance itself. You can go there to explore the city and to do some sightseeing and shopping. The easiest way to go there might be by train and by boat. They are both running very often during the summer season and you can hop off at every spot you'd like to. Of course, Lake Constance also offers a lot of historical places which are definitely worth a visit. There are for example the lake dwelling museum. Since 2011, 111 lake dwelling settlements are part of the UNESCO World Heritage. Go there and rediscover the sunken village of Unteruhldingen and everyday life in the Stone and Bronze Age. But please be aware of the different opining times. They are changing during summer and winter. Lake Constance also offers a lot of other museums like the Zeppelin museum in Friedrichshafen. It is the world's most extensive and significant collection on the history and technology of Zeppelin airship travel. If you are interested in this topic you can also book a flight in a Zeppelin above the Lake of Constance which is really amazing and expensive of course. The Lake Constance also has a little island which is called Mainau or "The Flower Island". It is a great Idea to go there during the warm months and see all the different flowers and visit the butterfly house there. You can find there more than a million tulips and narcissi in spring. In summer they're followed by rhododendrons and azaleas, roes and dahlias. Some cities around the lake have also great castles to visit. For Example the "Schloss Salem", which is a private school today and offers a lot to see. The "Schloss Meersburg", this is the oldest continuously inhabited castle in Germany, from the sinister dungeons to the imposing knights' hall. Another lovely spot is the Birnau near Ueberlingen. Vineyard slopes down from the pilgrimage church to Schloss Maurach on the lakeshore. The scene inside the church is a riot of colors and embellishments and you also have an amazing view across the lake. For the younger visitors (but it is also a lot of fun for the older ones) we can really recommend the "Affenberg" in Salem. There are nearly 200 Barbary macaques roam freely in a 20 ha forest. You can observe the monkeys and feed them with gratis available popcorn. Guides are situated along the path to explain the monkeys' behaviour happening before your eyes. Maybe you are lucky and you will see some baby monkeys.
So, we have a lovely home but at the moment we are visiting the UK and we spent here three weeks. One week was a language course the other two weeks we were supposed to do some work experience in the college at the communication department.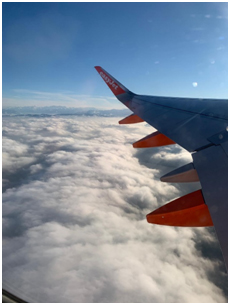 When we arrived in the UK in the evening it was already dark and we couldn't find the man which should take us from the Airport to Eastbourne. When we finally found him, we had a 90 minutes-drive down to the East Sussex College Eastbourne where our host families picked us up. We were very nervous because we never stayed in host families before. We tried to imagine how our host families would be like and how we would spent our time here. Now we will just have a closer look about how our host families have been like: Anna:I stayed with a lovely young family, which lives in a great Victorian house in Old Town. They have a lovely little baby. With his age of 15 months he is always in a great mood and he is nearly never crying. They also own two Lurcher dogs. During my stay they really made me feel like home and I really enjoyed the stay in their house. They also told me a lot of interesting things about Eastbourne, Brighton and London. They could always tell us about the great things to do around.
Maureen:
I stayed in family with 3 children (age of 13,12 and 10) and two cats. All of them are very nice and friendly. The funniest thing is the host mother asked every evening for a new word I learned at the English course or at work to improve my English. After our first impressions of our host families our three week stay in Eastbourne can begin: We used our first day after our arrival to have a look around. We went to the Pier and we had great weather. Eastbourne is a lovely city and a good spot for shopping. The city has a great shopping mall "the Beacon" and a lot of other shops, hairdressers, food courts, supermarkets and restaurants around.
We often decided to go to the city after work and spent some time and money there. But you need to be aware that the shops are already closing around 6PM. This is much earlier than in our home county. After 6 there are just some supermarkets and off licensed shops open. Our first week in Eastbourne started with a one week English Course at the College. When we arrived at the Campus we figured out very fast that it is very busy here. There are a lot of students and they are all rushing through. We unfortunately had no idea where we should meet the others, so we decided to meet at the reception in Ecat House.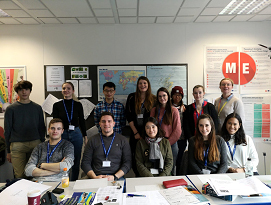 We were mixed together with a group of six other students from Thailand, Korea, Taiwan, France and Spain. So we were a very international class, which is great to improve our English knowledge.
The other students of our class are all staying in the UK for a very long time – up to 11 month. They also do some exams here before they leave. We just popped in the course for one week that is maybe why they needed time to get used to us. But during the week and the more we talked to each other it was getting better every day.
Our teacher was Tabitha and she is amazing. With her great sense of humour we never get bored in class and we had a lot of interesting conversations during the week about different topics. She wanted us to discuss with each other as much as possible, this was a great way to learn more specific vocabulary and to speak more fluent than before. We also did a lot of grammar exercises on the computer. We could choose which topics we like to improve. This was a nice task to refresh the grammar skills we learned in school ages before. But we haven't just learned about the English language, we also learned more about the different cultures, about how to behave in which countries, about the differences between the cultures and what we have in common. All in all the college in Eastbourne is pretty close to the college we visit in Germany. The facilities are more or less the same but we both prefer the German cafeteria Food. We also recognized that the people in college don't like to use the radiators at all. It is very cold in the College! So when you go there in winter make sure you bring enough warm clothes with you. We also visited the vegan Festival at the college, which was great! A lot of vegan companies presented their food and you could try a lot of vegan stuff. It was also a great possibility to find out about veganism and get a lot of information. Our first weekend, we spent the Saturday to visit Beachy Head and the Seven Sisters. These are the white chalk cliffs located between Eastbourne and Brighton. You can go there for long walks and taking great pictures. The easiest way is by bus – but be careful: the direct bus to Birling gap (where the Seven Sisters and Beachy Head is located) just goes on Sunday and only three times a day. In summer you can also catch the tourist bus in Eastbourne, it starts from the Eastbourne Pier and takes you to the cliffs. They have an open top and go very often - they are operating in March until October. We also spent two days in Brighton, what we can highly recommend. Brighton is lovely and only a one hour bus drive away. It has a great pier, a wide beach, great shops and malls, pretty lanes with shops to walk through and other sights like the royal pavilion, the clock tower and museums.If the weather is fine, you should definitely have a walk along the beach. You can take there a lot of great pictures and enjoy the sun. While your walk you can see a lot of nice spots to stay, for example a pavilion next to the seaside or the lovely and colourful beach boxes. Brighton is also called: "London by the sea".After the weekend we had our first day at the working department. We both worked in the college at the Marketing Department.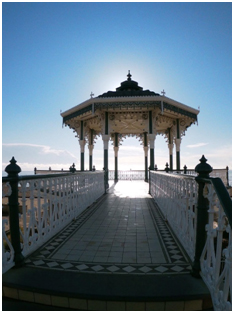 On our first day the team did a "creative Monday". That means that the Team spent the afternoon with showing new ideas of marketing to their colleagues and try to inspire the others . In the same week we were also allowed to go to Brighton and do a video with all the sights and things Brighton can offer. We had a great day and also fabulous weather. We really get some great shots and videos. Our second weekend we spent in London. London is amazing and very very busy. You really can get lost between the people which are rushing around. Nobody seems to have time. If you want to ask somebody for the way they just move on because they think you might be asking them for money or something. But anyway: London is lovely! We arrived on Friday in the evening and went out for dinner in the famous hard rock café. We also bought one of the hard rock café tees.  We went to bed quite early on Friday because we wanted to get up early on Saturday. After breakfast we bought a ticket for one of the sightseeing busses, which was great because it had a validity of two days and we were able to hop on and hop off wherever we liked to. We also visited the London Eye, we booked the tickets in advance in the internet and payed some pounds more because we wanted to get in the fast lane and believe us: It is really worth its money. We just needed to wait about 15 minutes, which is really good. So we don't lost a lot of time with waiting.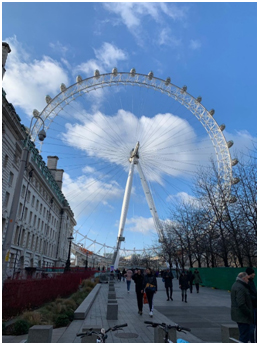 After that we just had a little walk through the city and we went out in a club on Saturday evening. We went to ministry of sound and listened to Sigala, alle Farben, Blonde and Dynoro. This was fantastic! We danced all night long and went back home around 6 am After a very short sleep we get up again and visited some touristic hotspots like the Buckingham Palace, Westminster Abbey, London Bridge, Tower of London, Leadenhall Market, the Big Ben, Hyde Park and Speakers Corner, Madame Tussauds, Westfield Center, the Oxford Street and the Piccadilly Circus. We went there out for dinner on Sunday evening in a nice steakhouse next to the underground. On Monday morning we checked out and caught our train back to Eastbourne. It was a great weekend with a lot of different impressions. But we were also glad to travel back to lovely and quiet Eastbourne. On Monday Afternoon, when we returned to work, we were really tired and unproductive because of the less sleep over the weekend. We are lucky that our bosses are not too strict with us (Thank you guy and Justin to forget about our little Monday Hangover) The rest of the week we spent with different tasks, like writing this blog, writing about what to do in Eastbourne and Lewes and a lot of other marketing stuff. We were also asked to go with Ash to an Interview of the music students of the College which was quite interesting. At our last day in the UK we meet again with Emma and had a little chat about how it was going the last weeks. After that our complete student class went to the Hydro Hotel in Eastbourne to enjoy a real British Teatime. The time really flies in Eastbourne. So when you go there use your time very well and try to see as much as possible. Even when you spent every single day there is still so much more to see. We had not enough time to visit Lewes, so if you have the possibility go there! That's what everyone around us highly recommended. We enjoyed our stay very much! Especially because of our lovely host families, our great colleagues at work and of course the students we had a really great time with. We are pretty sure, that both of us would come back to Eastbourne and the College if we would have the possibility.